'Bumper year' for rare butterfly at Blean Woods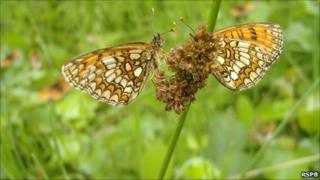 It has been a bumper year for the rare Heath Fritillary butterfly at Blean Woods, according to the RSPB.
The first sighting was on 12 May at the site near Canterbury, 10 days earlier than the charity's previous record.
Numbers peaked with a count of 1,660 on 14 June at the Kent site, which is one of only a few places in the UK that the species is found.
Usually the butterflies die off in July and the caterpillars survive until spring.
The RSPB said that in years when the population was high, there was sometimes a partial second generation, with a small proportion of the caterpillars becoming adult later in the same summer.
There has been a gradual recovery of the species over the past five years at the RSPB's site at Blean Woods.
The area has been managed by coppicing new areas to encourage the growth of cow-wheat, the Heath Fritillary caterpillar's main food source.
Michael Walter from the RSPB said: "It was really encouraging to see that, not only were the regular colonies doing as well as, or better than, usual, but several new sites have also been colonised, a sure sign of a healthy population."