New lane on A20 Dover route at Roundhill Viaduct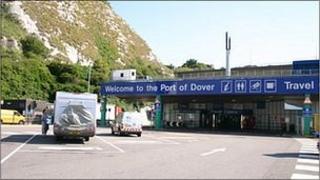 An extra lane is to be opened on the coastbound Roundhill Viaduct near Folkestone as work continues to repair damaged components on the Dover route.
The Highways Agency closed one lane each way on the A20 in May and a 30mph speed limit was put in place.
The Port of Dover, P&O Ferries, DFDS Seaways and SeaFrance had called on the Highways Agency to reopen the lanes to cut congestion during the summer.
The lane will be installed during a series of overnight closures.
Paul Harwood, from the Highways Agency, said: "We are aiming to have the extra lane installed by the coming August bank holiday.
"This will go some way to alleviating the congestion currently occurring at the viaduct and ensure the road remains open safely in both directions."
The 30mph speed restriction will continue to be in force when the new lane is in operation.
Robin Dudridge, from the Port of Dover said: "With a permanent repair to the failed expansion joints some months away, we suggested the temporary solution to ensure that this key route to the UK's busiest ferry port is better able to cope during the summer season."