Saltwood village to name the 70 who died in WWI and WWII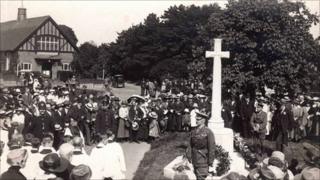 A Kent village is to add the names of 70 servicemen and civilians who died in two world wars on its war memorial, 90 years after it was first dedicated.
The names will be put on stone tablets at Saltwood War Memorial, near Hythe, after three years of research and fundraising in the village.
The memorial was first dedicated on 22 May 1921 and many of those who gathered on the village green had lost someone.
However, none of the names of those who fell were put on the stone cross.
During World War I and World War II, 66 servicemen and four civilians associated with Saltwood lost their lives through enemy action. Most are buried in a foreign field.
Many unnamed
On 26 September 1920 a memorial was dedicated within Saltwood Parish Church for those who had lost their lives during the World War I.
On 6 November 1949 a second tablet was dedicated in the church to some of those who had fallen during World War II.
However, together the memorials in Saltwood Parish Church name only 45 of the 70 who died, leaving 22 servicemen and three civilians, without being remembered anywhere.
In 2008, Saltwood Village Society began a project to have all the names engraved on stone plaques which would then to be added to the memorial.
Mike Dugdale, from the society, said: "I've lived here for 26 years and every time I drove past the memorial it hurt that the names weren't here."
Appeals for family
It has taken three years to research and trace the names of the 70 soldiers and civilians and, also to raise the £6,000 needed to restore the stone cross and carve the names of the fallen.
Despite appeals, the society has not found any direct descendents of those from the village who died in the two world wars.
The memorial will be re-dedicated on Sunday, 25 September when the names will finally be added to the rear wall of the monument.
"It will be difficult not to have a lump in my throat and a tear in my eye," said Mr Dugdale.