Arson arrest follows five Tunbridge Wells fires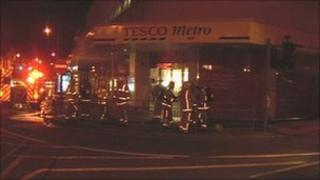 A man has been arrested on suspicion of arson after five fires in one night in Tunbridge Wells.
Kent Police said one of the fires was at the Tesco Metro in Grosvenor Road and the rest involved rubbish or bins set alight.
Officers said a 25-year-old man was arrested after the fifth fire in Wood Street and he was being questioned at Tonbridge police station.
The incidents are not connected to recent riots in London and Medway.