Stones thrown at Sittingbourne woman in wheelchair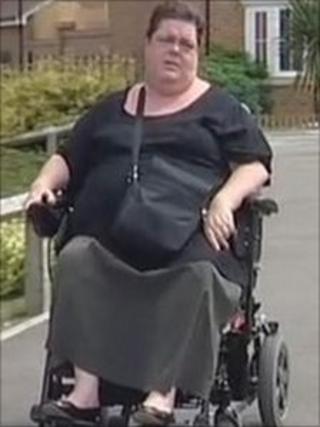 A woman in a wheelchair has suffered swelling to her head after being hit by stones thrown by a gang of youths.
Sam Rogers, from Sittingbourne in Kent, said the ordeal had left her terrified and afraid to go out.
She said a stone hit her in the back of the head as she headed home. She was then subjected to "terrible abuse" before being hit again.
"Nobody should feel this amount of terror," Mrs Rogers said. Kent Police have appealed for witnesses.
Mrs Rogers, who is in her early 40s, had been making her way across the Rectory Road playing field in Sittingbourne at about 19:00 BST on Friday, 29 July when she was attacked.
She told police there were about five youths in the gang, aged between about eight and 13.
She has been using a wheelchair for the past 15 years after suffering a spinal injury, and said she had tried to remain as independent as possible, but the attack had put that in doubt.
"I'm having to force myself to go out as I know I'm going to end up a prisoner in my own home and I don't want that, and I don't want other people to feel the way I'm feeling about it.
"It's just not fair. Nobody should feel this amount of terror. Nobody should feel that they're unsafe," she said.
Her husband, Graham Rogers, added: "I don't quite understand the mentality of the kids that are doing this sort of thing - because they think it's fun or are they that bored that all they can do is pick on somebody who can't really defend themselves?
"It does seem completely ridiculous to me."
Kent Police are investigating the incident and have urged people using the playing field to be vigilant.