Doubt over Isle of Sheppey Vestas wind turbine factory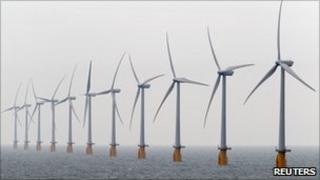 The world's leading wind turbine manufacturer has warned the government it will not build a new factory in Kent unless it gets more detail on the UK's plans for renewable energy.
The Danish company Vestas has an option to buy land at Sheerness docks to build a manufacturing plant employing up to 2,000 people to produce giant offshore wind turbines.
But it says politicians have to do more to make it happen.
The president of Vestas Offshore Wind, Anders Soe-Jensen, said if the government did not offer more clarity then customers would not buy the turbines and they "won't build the factory".
Despite months of talks and the government White Paper supporting renewable energy, Vestas is nervous.
It is worried that the companies who will buy its turbines do not know how much they will be paid to produce electricity.
The complications appear to be based on what are known as ROCs, or Renewable Obligation Certificates, which are used to make power companies purchase an agreed amount of power from renewable sources.
Vestas wants the government to make decisions about ROCs so that it can make the business case for the new factory.
There appears to be a willingness from Vestas and local politicians at Kent County Council to build this factory, but Vestas can be ruthless.
It closed down its factory on the Isle of Wight in 2009 because of poor orders, with the loss of 425 jobs.