Call for lorry drivers to have sleep disorder tests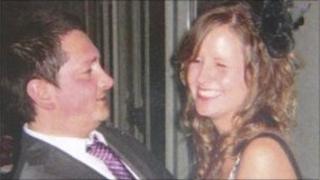 A woman whose son suffered brain damage when his car was hit by a lorry is calling for all HGV drivers to be tested for sleep disorders.
Carole Upcraft's son Daniel was injured and his fiance Nicola Culshaw was killed as they queued for the Dartford Tunnel in April last year.
The lorry driver was later diagnosed with sleep apnoea, a condition which causes disturbed sleep patterns.
A case of death by dangerous driving against him was dropped.
'Is treatable'
Ms Upcraft said she wanted haulage companies to raise awareness among their drivers and to screen them much earlier.
"There is treatment if people become aware of the symptoms, it will reduce the amount of crashes and the drivers get the benefit too.
"I think it needs to be part of a general health screening."
Liam Northfield, from the Freight Transport Association, said that drivers over the age of 45 had medicals and they were asked if they had had any symptoms or a history of sleep apnoea.
"It is treatable. Lorry drivers shouldn't be scared of going to the doctor."
Dr Peter Venn, from the Sleep Disorder Centre at East Grinstead Hospital, said it was a very common problem affecting between 4% and 5% of the population, although more men were affected than women.
"It's essential that if they think they suffer from it that they do something about it."
Airways blocked
Obstructive Sleep Apnoea (OSA) is a respiratory condition in which the throat repeatedly narrows or closes during sleep.
Air is blocked from getting into the lungs and low oxygen levels cause the brain to wake the person up.
Severe OSA increases the risk of a person suffering high blood pressure, a heart attack or stroke.
By law, drivers with the condition must inform the DVLA.