Sea defences to protect 300 homes in Selsey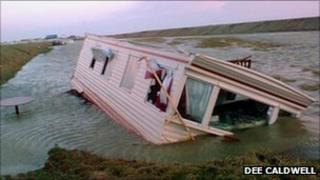 Sea defences along part of the Sussex coastline which has been hit by major flooding in the past is to be built to protect over 300 homes in Selsey.
A 1km (0.6 mile) sea wall was completed earlier this year, and the new defences would stretch a further 7km (4 miles) at a cost of up to £10m.
The Environment Agency (EA) scheme would also protect the only road into the town.
Selsey saw major flooding in 2008 when waves breached a sea wall.
'Greatest flood risk'
The scheme would cover an area the size of 300 football pitches.
Andrew Gilham, from the EA, said: "We have now completed the final design and are working hard to begin construction in the autumn."
He said the work would reduce the risk of flooding to a vulnerable stretch of coastline.
Medmerry is currently one of the stretches of coastline most at risk of flooding in southern England.
The shingle bank at Medmerry requires expensive maintenance each winter, which is not able to prevent flooding from major storms.
Original estimates in 2009 put the cost of the project at between £8m and £10m.
The agency is consulting on the plans and will hold guided walks on the site later this month.