Baby April CCTV couple eliminated from investigation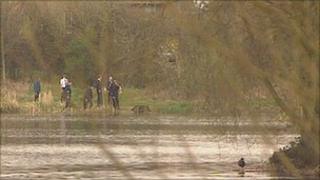 A couple captured on CCTV visiting the Ashford grave of an unidentified baby have been eliminated from the police investigation into the girl's death.
The image was taken as the man and woman visited Bybrook Cemetery in March and police issued an appeal earlier this month to identify them.
The body of the baby girl, who died of asphyxiation, was found in a bag near a lake in 1995.
Her parents were never found and no-one has been prosecuted.
The baby's body was exhumed in March as part of the police investigation.
Found by walkers
Officers obtained a full DNA profile of the baby before the body was reburied at Bybrook Cemetery in May.
The baby was found dead by a couple walking alongside Singleton Lake, near Ashford, on 3 April 1995.
The newborn, who weighed 7lb (3kg) and was named April by the investigation team, had been wrapped in a Kleenex toilet tissue bag, which was inside a Motaworld carrier bag.
It is thought she was born between 26 March and 3 April.