Ramsgate Royal Harbour Marina boat owners 'record high'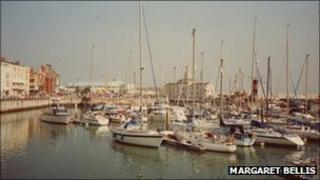 Record numbers of boat owners are using Ramsgate's Royal Harbour Marina in east Kent, Thanet council has said.
The harbour's western outer leisure marina is now full for permanent berth holders, for the first time since 2007.
And the eastern outer marina, used by fishing and angling boats, has been full since Christmas last year, the council said.
Council leader Bob Bayford said investment and additional capacity had led to increased numbers.
Rabies by-law removed
He said the harbour had about 400 permanent berth holders in March, and now had 435. In total, the harbour has a total of 700 permanent and visitor berths.
"We believe our success is down to many things, not least the investment in dredging and the new eastern outer breakwater, which provides us with additional capacity," he added.
He said the removal of a by-law banning dogs from the harbour had also been widely welcomed.
A decision was made last year to remove the by-law that came into force in 1994.
At the time, Thanet council said it was thought the issue of rabies had played a large part in the introduction of the by-law.
But it said the public health threat of rabies had reduced with the introduction of pet passports.
Rabies is a potentially fatal virus commonly transmitted by dogs.