Canterbury alert: Second hoax device found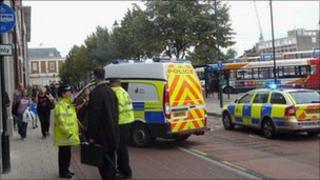 Police have revealed that a second hoax device was discovered during a major alert that closed parts of the centre of Canterbury.
Army bomb disposal experts were called following reports of an explosive device in Old Dover Road on Friday.
Trains were halted and parts of the city cleared while police investigated the incident and a separate fire.
On Saturday Kent Police said the first device was a hoax and another hoax item was found near the blaze.
Detectives believe the two incidents are linked.
The force also said they had reports of suspicious activity at Kent Cricket Ground but they proved to be unfounded.
'Elaborate hoax'
About 100 officers were deployed at the height of the incident.
Assistant Chief Constable Andy Adams said: "I am now in a position to say that the first suspicious package on the railway line has been checked by Army bomb disposal experts and is not, as had been reported, an explosive device.
"We are satisfied it is in fact an elaborate hoax designed to appear like a device.
"Bomb disposal have also checked a package associated with the fire in the baby-changing room on the second floor of Marks & Spencer.
"This has also proved to be a hoax device."
He added: "Last night was a difficult evening for the residents of Canterbury and firstly I want to thank them for their patience and perseverance, which has made our task an awful lot easier.
"My overriding principle last night was to ensure that the public were safe. That, by necessity, required us to act slowly and precisely utilising the skills of our military experts.
"I am now confident that the prime focus of our ongoing investigations is the Old Dover Road and Marks & Spencer."
'Identify and prosecute'
Mr Adams said: "Bomb hoax is a serious offence and carries a weighty sentence.
"We will be doing everything we can to identify and prosecute whoever is responsible for the disruption caused last night."
The force said all the roads in Canterbury city centre had been reopened on Saturday.
A section of the railway line is still closed and rail replacement buses are still in place.
Emergency services were first alerted to the scene at 16:21 BST on Friday.
About 50 minutes later, Kent Fire and Rescue Service was called to Marks & Spencer, in St George's Street, where staff discovered a fire in the baby-changing area on the second floor.
The fire was quickly put out and the store evacuated.