Derelict cafe fire in Rochester treated as 'suspicious'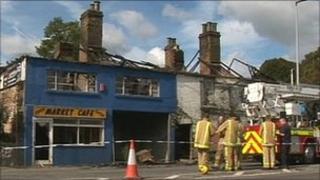 A fire which destroyed a derelict cafe in Kent, is being treated as suspicious Kent Police said.
About 30 firefighters tackled the blaze which started at the two-storey Market Cafe, Corporation Street, Rochester, at about 22:30 BST on Sunday.
Crews used breathing apparatus to investigate reports that some people were inside the building but they were later discovered safe.
Investigators are currently trying to establish the cause of the blaze.
The incident is being linked to a fire at a three-storey disused restaurant in High Street on Saturday, which is also being treated as suspicious.