Forum seeks compromise over £120m Gravesend revamp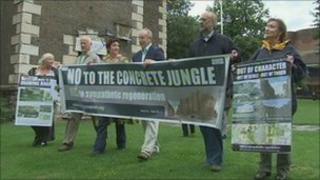 A group has been set up to reshape redevelopment plans for a Kent town, that were rejected by councillors.
The Heritage Quarter forum brings together Gravesend residents, business leaders, the council and the developer Edinburgh House.
Hundreds of homes, new businesses and a hotel were originally proposed.
Gravesham Borough Council threw out the plans last September, arguing that they were too large and not in keeping with the existing architecture.
Council leader John Burden said there was a "cloud of uncertainty" hanging over the town.
"One way or another the doubt must be removed because it is having a debilitating effect on businesses, retailers, residents and potential investors," he said.
'Not be forgiven'
The original proposal included provision for 400 flats, a hotel, restaurant and leisure facilities, shops and offices, as well as a new town square and parking for 1,000 cars.
It was rejected following representations from scores of objectors, but councillors said a smaller-scale regeneration would still be welcomed.
Mr Burden said: "Everyone involved says they want the town regenerated, so we have really got to take the opportunity to come to a swift conclusion.
"Any unnecessary further delay, posturing and scaremongering will not be forgiven by those who really care for the future of the town."