Nurses at Kent hospital get 'do not disturb' signs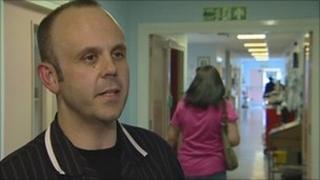 Nurses at a Kent hospital have been asked to wear "do not disturb" signs when giving out drugs to patients in an attempt to cut down on mistakes.
Managers at the East Kent Hospital NHS Foundation Trust said the distinctive red tabards prevented nurses from being distracted.
The tabards are worn during three daily drugs rounds lasting about 30 minutes.
The charity Age Concern said the tabards could prevent some vulnerable patients approaching staff.
Paul Coles, of Age Concern, said: "How would you know as a patient that you can talk to someone who's got a 'do not disturb' sign?
"It might be a couple of hours before someone else comes round."
'Ignore patients'
The trust runs the Kent and Canterbury, the William Harvey in Ashford, and the Queen Elizabeth the Queen Mother in Margate.
Sarah Dodsworth, of the Royal College of Nursing, said: "We wouldn't want to see it being used as a way to reduce the number of qualified nurses on duty.
"We also wouldn't want it to be seen as a way for nurses to ignore patients but that hasn't been the feeling of the nurses involved."
Steve Hams, a deputy chief nurse, said: "It's about encouraging other staff and visitors not to disturb nurses when they are doing their drugs rounds.
"It's not about patients not being able to talk to nurses."