Tank regiment in Maidstone parade after Afghanistan duty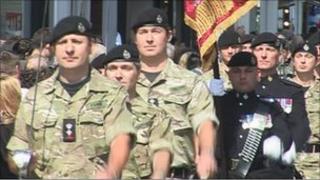 Soldiers from the 2nd Royal Tank Regiment (2 RTR) have paraded through a Kent town to mark their return from active duty in Afghanistan.
The march in Maidstone was a homecoming for many of the "Tankies", who come from the town and nearby Ashford.
They were among 300 soldiers from 2 RTR who spent six months in Helmand Province earlier this year.
The regiment provided heavily armoured support to British infantry and were involved in fighting insurgents.
Their work also included patrolling towns and villages, repairing schools, protecting road building, mentoring the Afghan National Police and guarding a rock concert.
'A heartland'
The regiment recruits heavily from Kent.
After an inspection at County Hall, the parade set off to march along the High Street.
The Lord Lieutenant and Lord Mayor received the salute at the Town Hall before the parade returned to Brenchley Gardens for speeches and prayers.
"2 RTR is proud to think of itself as Southern England's armour," said Capt Tom Lloyd-Jukes.
"Maidstone is a heartland for our regiment.
"We look forward to being able to thank the people of Maidstone for all the support and parcels we were sent while we were in Afghanistan."
High Street will be closed to cars during the parade.