Organ company Browne and Sons' 140th anniversary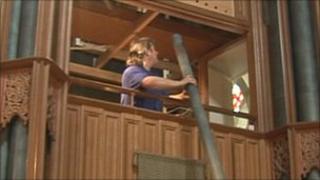 A company which looks after 400 organs in churches across the South East is celebrating 140 years in business.
Browne and Sons also builds instruments in its Canterbury workshop as well as employing two tuners who work on organs from Kent to Northamptonshire.
Instruments requiring restoration are painstakingly dismantled so they can be repaired in the workshop before being put back together on site.
A large organ can take five months to restore, costing more than £100,000.
The company said that was busier than ever and now employed 13 people in its workshop.
Roger Greensted, who joined in 1963 and is now a director, said: "I think it's part of the desire to preserve parts of our heritage and also there are a lot of very good, very young organists."
Open days
The company was formed by Frederick Henry Browne in 1871 in Deal at a time when many churches were being built by the non conformists.
The company moved to Canterbury in 1906 and Frederick, with his son William, continued to manage the business until his death in 1933. William died six months after his father.
A series of men who all started at the company as apprentices have run the business since William Browne's death.
The company's workshops are open to the public on 2 and 3 September.