Fake toys seized at Gillingham market stall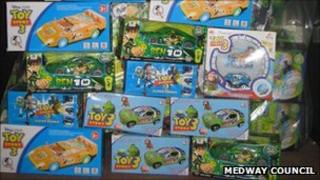 A market trader could face an unlimited fine or up to 10 years in prison after fake toys were seized from a stall in Gillingham, said Medway Council.
Medway Trading Standards have sent the 80 games including Ben Ted and Toy Story 3 for testing.
Councillor Mike O'Brien said: "The discovery of these fakes highlights the dangers of buying a supposed bargain."
Trading standards are advising anyone who may have purchased these toys not to give them to children.
The council said that toys should be labelled with a CE mark, and must also show the manufacturer's, or importer's name and address.
Mr O'Brien said: "As well as not being the genuine item they could also be dangerous because they may not meet the essential safety standards."