Woodlands Park cafe destroyed by fire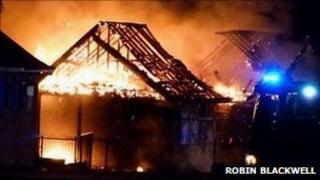 A cafe which was rebuilt by students from three Kent schools as part of their coursework has been destroyed by a fire.
Four fire crews tackled the blaze at the cafe in Woodlands Park, Gravesend, following a call at 01:05 BST.
Kent Fire and Rescue Service said the single-storey building was well alight when firefighters arrived.
The fire was put out by 04:00 BST. It is not believed to have been started deliberately, the fire service said.
The cafe, which was derelict after being vandalised, was renovated by students from Saint George's School, Thamesview School and St John's RC Comprehensive in 2010.
Pupils aged 12 and 13 came up with the idea for a Young Enterprise project.
Kent County Council contributed a £1,000 grant towards the £16,000 budget, with school governors and local businesses helping to raise funds.
Construction work was carried out by 15, 16 and 17-year-olds.