Marlowe Academy principal leaves days before new term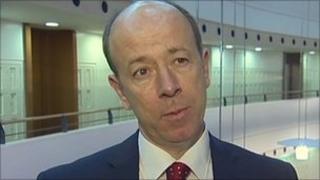 The principal of a Kent school has left the job days before pupils return for the new academic year.
Ian Johnson, who has been in charge of The Marlowe Academy in Ramsgate since it opened in 2005, left on 31 August.
He has been replaced by interim principal Carl Wakefield, according to the school's website.
The £30m academy was placed under notice to improve by Ofsted last autumn and was rated third worst in England in GCSE performance tables in January.
The Marlowe replaced the Ramsgate School which closed after being put into special measures in 2003.
Staff training
It was the first academy in Kent when it opened.
The £30m redevelopment and rebuilding programme was sponsored by the Roger De Haan Charitable Trust set up by Roger De Haan, the former chairman of Saga Group.
Mr Johnson confirmed to the BBC that he had left The Marlowe, but declined to give any further information.
He said more details would be released next week.
Staff training days were scheduled at The Marlowe on Thursday, Friday and Monday.
The first students are due to return on Tuesday.