Vintage vehicle left to Kent charity Find A Voice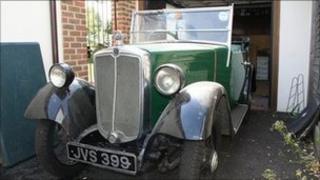 A vintage Morris Minor worth thousands of pounds has been left to a Kent charity after the death of its owner.
Find A Voice, which is based in Ashford, provides advice and support to people with severe speech and communication difficulties.
The classic 1934 Tourer was left to the charity by Richard Gentry, a long-term supporter, who died in 2009.
It plans to sell it on the online auction site eBay and hopes to attract bids from motoring enthusiasts.
'Former glory'
Elizabeth Collins, chief executive, said: "This beautiful Morris Minor has to be the most unusual donation we have ever received, but a very wonderful one all the same.
"Mr Gentry loved the Tourer and regularly took it out to car club events.
"But since his illness took hold in 1999, the car has stood still and gradually fell into a state of disrepair.
"During a five-year period a knowledgeable enthusiast painstakingly restored the Minor to a good standard, returning it to its former glory."
Ms Collins said parts of the car were new, but the original central throttle pedal system was still in place.
"The car will be sold as seen and will need a trailer to get it home," she said.
"We would like someone to cherish it as dearly as its former owner did."