Young offenders in Swale shown reality of prison life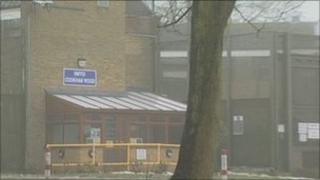 Teenagers who cause trouble in a part of Kent have been coming face-to-face with serving prisoners with the aim of shocking them into changing their ways.
Youngsters with a history of anti-social behaviour have been meeting volunteers from Cookham Wood young offenders' institution in Rochester.
It is hoped the pilot scheme will show them the reality of prison life.
The initiative is run by the Swale Community Safety Partnership with Kent Police and the local council.
'Giving it straight'
Judy Unsworth, project co-ordinator, said some of the teenagers had "a look of horror" on their faces after hearing what prison life would be like.
None of the youngsters have been forced to take part in the scheme, but organisers think the reality of strip-searches, 23-hour-a-day "lock ups" and separation from family and friends will be enough to deter them from crime.
Ms Unsworth said the teenagers, who were "possibly on the cusp of entering the criminal justice system", were talking to "young people not much older than themselves who are giving it to them straight as it is".
She said so far only one meeting had been held, attended by both the youngsters and their parents.
"It was quite an eye-opener and they didn't come away with any illusion of what life could be like for them, and it generated quite a deep conversation."