Truck driver charged after Chatham cars damage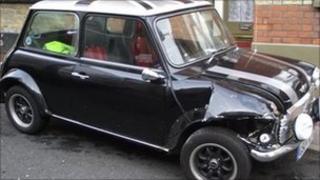 A truck driver has been charged with drink driving after up to a dozen cars were damaged in a Kent street.
Police said the 31-year-old man, from Chatham, has been accused of drink driving and failing to stop at the scene of an accident.
Residents of Dale Street, Chatham, said they chased a truck down the road on Tuesday evening after a dozen parked cars were damaged by wayward driving.
Andy Cocker, 41, said the scene the next day was like a "demolition derby".
Kent Police said the suspect was arrested on Tuesday evening and charged the next day.
He will appear before magistrates on 25 November.