Kent councillor leaves teaching job after Facebook post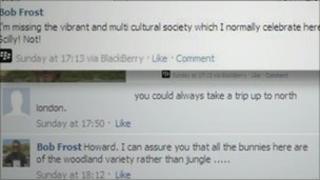 A councillor in Kent who was suspended from the Conservative Party after making offensive comments on Facebook has left his teaching post.
Dover District Councillor Bob Frost appeared to make comments about black people during an online conversation about the recent riots.
Chris Morgan, head teacher of Sir Roger Manwood's School, Sandwich, said Mr Frost had left by mutual agreement.
Mr Frost issued an apology and deleted the posts in August.
He said he was "mortified by the offence" that he had caused and was "very sorry".
'Mutual agreement'
Mr Frost made the remarks during a conversation on the social-networking site while he was on holiday.
On his status he wrote: "I'm missing the vibrant and multi-cultural society which I normally celebrate here in Sicily! Not!"
It was then suggested by someone else on Facebook that he take a trip to north London.
He replied: "All the bunnies here are of the woodland variety rather than the jungle."
On Thursday Mr Morgan said: "[I] can confirm that Mr Frost is no longer employed at Sir Roger Manwood's School.
"Mr Frost and the school have concluded by mutual agreement that this was in the best interests of both parties."