Chatham fire: 'Estranged husband' arrested in Coventry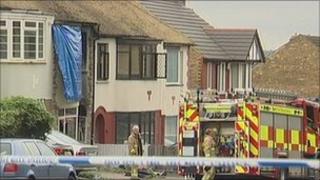 A man arrested over the death of a 20-year-old mother and her 15-month-old son in a house fire in Chatham, Kent is believed to be her estranged husband.
The man, named locally as Danai Muhammadi, 23, and a 37-year-old man were arrested in Coventry on Saturday on suspicion of murder.
The victims of the fire in Chatham Hill are believed to be Melissa Crook and her son Noah.
Three other people - thought to be her parents and brother - were also hurt.
Broken ankles
A 49-year-old man is being treated for life-threatening burns while a 39-year-old woman is being treated for burns and smoke inhalation injuries.
A 21-year-old man is being treated for broken ankles after escaping the fire. Both are said to be stable in hospital.
They have been named locally as Mark and Amanda Crook and their son Bohdan.
Neighbouring terraced houses had to be evacuated at the height of the fire, which started at 02:30 BST on Saturday.
Andy Merriman, from Kent Fire and Rescue, said firefighters had managed to stop the "extreme" fire spreading to nearby houses.
Kent Police, who confirmed that it was being treated as suspicious, have appealed for any witnesses to contact them.