Thanet beach clean-up used for marine litter research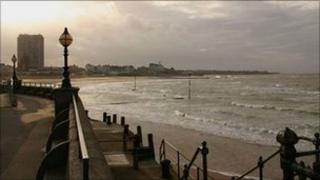 A beach clean-up in Kent will also be used to gather statistics on litter being washed up on the shore.
Beaches, including Minnis Bay, Pegwell Bay and Margate Main Sands, will be cleared of litter this weekend.
The Marine Conservation Society (MCS) and Thanet council are running the operation which volunteers can join.
Beachwatch organiser Tony Child said litter from 15 local bays would be monitored. The results were "vital in turning the tide on litter", he added.
Discarded fishing nets
He said: "The tide of litter washing up on our shores is not just unpleasant to look at; it can harm and even kill some of our best-loved marine wildlife."
Beachwatch surveys had found the four main sources of litter on UK beaches came from the public, fishing, shipping and sanitary waste, particularly cotton bud sticks, he said.
The surveys had also recorded a steady increase in beach litter since 1994.
MCS research had also shown that more than 170 species, including seabirds, turtles and whales had mistaken marine litter for food, which could lead to starvation, poisoning and death, Mr Child added.
Plastic packaging and discarded fishing nets were also known to injure, entangle and drown marine animals, such as seals and dolphins, he said.