Margate hopes to avoid flooding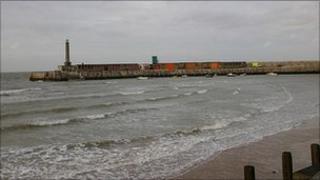 Former Mayor of Margate Mick Tomlinson is old enough to remember one of the most devastating floods in the town's history.
In 1953, he recalls how waters breached the sea walls, damaging homes and toppling the town's lighthouse.
He said: "I'd never seen the water like it. My father brought me along to see the damage on the seafront.
"In the Old Town, the roads were flooded and people were coming down King Street in rowing boats."
He added: "We actually saw the lighthouse go over, as many other people did."
Homes at risk
The seaside town remains a flood-risk area where the potential cost of flooding is estimated at about £65m.
Thanet District Council has said more than 470 properties in the Old Town area are potentially at risk.
It is a scenario the Environment Agency hopes to avert as work gets under way on a £6m coastal defence project.
The agency says the scheme will reduce the flood risk from a one-in-20-year to a one-in-200-year event.
Anne-Marie Nixey, who owns home-furnishings shop Qing in the Old Town, welcomes the project.
She said: "It's not something I dwell on day to day but of course, it could happen to Margate quite easily and you have to prepare for that.
"It would completely take away my business and therefore my livelihood so yes, it's something that I want to be protected against."
Councillor Simon Moores said the work would start next month and take up to a year to complete.
A new defence structure will be built around the Kings Steps area, consisting of a series of wide steps from the beach to the promenade to reduce the impact of waves during storms.
Mr Moores said: "Every 50 years or so there's a risk of a big storm or a flood.
"We've had particularly big ones. When you think of 1897, 1953 and more recently in 1976, we've had some big floods and we want to mitigate the chance of this happening in the future."