Chatham fatal fire: Kent Police given more time for questions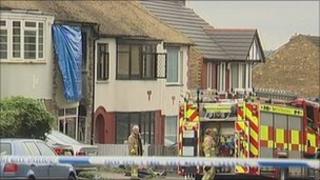 Detectives investigating a fatal fire that killed a mother and her 15-month-old son have been given more time to question a man on suspicion of murder.
Kent Police have been given until Wednesday evening to continue questioning the 35-year-old man from Maidstone over the fire in Chatham.
Melissa Crook and her son Noah are believed to have died in the blaze. Police have not released their names.
Four people have been arrested so far during the investigation.
The other three under arrest are a 21-year-old woman who was arrested in Coventry, and two other men aged 23 and 37. Police have also been given an extension for questioning the two men until Wednesday morning.
One of the men, named locally as Danai Muhammadi, 23, is believed to be Ms Crook's estranged husband.
Three other people - thought to be Ms Crook's parents Mark and Amanda and her brother Bohdan - were also hurt in the incident which started at about 02:30 BST on Saturday.
Kent Police said a 49-year-old man was being treated for life-threatening burns and a 21-year-old man was still being treated for serious injuries at Medway Maritime Hospital.
A 49-year-old woman was taken to hospital for treatment for smoke inhalation and later discharged.