Suspect package in Canterbury sparks security alert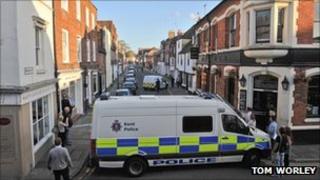 Canterbury has been disrupted by a security alert sparked by a suspect package for the second time in three weeks.
Kent Police were called to Broad Street just after 13:15 BST and cordoned off a 100m area.
Bomb disposal experts carried out a controlled explosion at 16:00 BST but the device was found to be harmless.
Canterbury MP Julian Brazier said he understood from police that it had been a deliberate bomb hoax.
The cordon was lifted at about 16:15.
The alert began when an off duty police officer saw the suspect package in Broad Street.
The nearby Diocesan of Payne Smith Primary School was evacuated, as well as nearby homes.
'Attention seeking'
Canterbury Cathedral was temporarily closed as a precaution but later reopened.
Visitors who were already inside the cathedral at the time were not asked to leave.
On 26 August, two bomb hoaxes caused a major alert in the city. Trains were halted and parts of the city cleared.
Police found a hoax device at the railway line in Old Dover Road, while a second was discovered near a fire which broke out in Marks & Spencer.
Mr Brazier said all the devices had been left in locations intended to create disruption.
"What we don't know is whether this person or persons is terrorist on the one hand or perhaps more likely a rather sick-minded attention seeking person.
"But we have to play for safe. It's always possible there could be another device which is a genuine bomb and for that reason it's only wise for members of the public to watch out," he said.
A police spokeswoman said there was no evidence at present to link the latest hoax device to last month's incident.