Investigation into Canterbury suspect device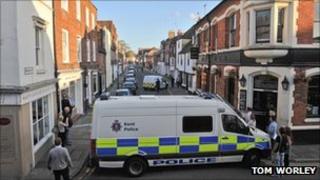 Police are studying CCTV footage and questioning people living near a package that sparked a second security alert in Canterbury in three weeks.
Kent Police were called to Broad Street on Wednesday and cordoned off a 100m (330ft) area for about three hours.
Bomb disposal experts carried out a controlled explosion but the device was found to be harmless.
Leader of Canterbury City Council John Gilbey called the person responsible for leaving the device "despicable".
Ch Supt Mark Nottage, of Kent Police, said: "There will now be a detailed investigation, including my officers, who are carrying out house-to-house inquiries and searches of the area.
"There will also be detailed forensics investigation and what I would ask is that anyone who has seen anything suspicious in the Broad Street area of Canterbury [on Wednesday] to contact Kent Police."
The alert began when an off duty police officer saw the suspect package, protruding from a metal boot scraper in an alcove in Broad Street.
The nearby Diocesan of Payne Smith Primary School was evacuated, as well as nearby homes.
Canterbury Cathedral was temporarily closed as a precaution but later reopened.
Mr Gilbey said: "Just unforgivable and unacceptable. Despicable behaviour really by someone, obviously we don't know who yet.
"It's a welcome relief that this is not a real attempt, it's another hoax but it hasn't shown any signs of affecting people in Canterbury."
On 26 August, two bomb hoaxes caused a major alert in the city. Trains were halted and parts of the city cleared.
Police found a hoax device at the railway line in Old Dover Road, while a second was discovered near a fire which broke out in Marks & Spencer.
Kent Police said there was no evidence at present to link the latest hoax device to last month's incident.