Voluntary patient transport to west Kent loses funding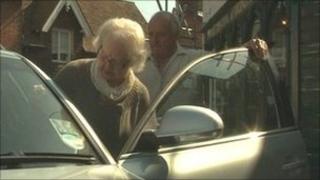 A voluntary car service for patients with medical appointments in west Kent has been cancelled by Maidstone and Tunbridge Wells NHS Trust.
The trust says it can no longer fund the service which costs £420,000 per year.
The local branch of the charity Age UK is concerned the ending of the service will affect older people.
The trust said "medically unwell" patients would still be transported by the trust's ambulance service.
'Essential for elderly'
Sandra Springett, from the Tunbridge Wells branch of Age UK, said: "[The service] is essential for a lot of elderly people, especially with changes to where they've got to get to for hospital appointments.
"Sometimes it's not just the case of getting there, it's being accompanied and feeling confident."
The voluntary car service is ending just before the closure of the Kent and Sussex Hospital in Tunbridge Wells and the full opening of the new hospital in Pembury.
Rosemary Lewis, who was a volunteer driver for the trust, said drivers were paid 41p per mile for the cost of their petrol.
A spokesman for Maidstone and Tunbridge Wells NHS Trust said: "Taking hundreds of thousands of pounds a year away from direct patient care to help run it is no longer an option.
"Patients will be advised about other voluntary car schemes that operate throughout Kent."