Canterbury traders want bins returned to city centre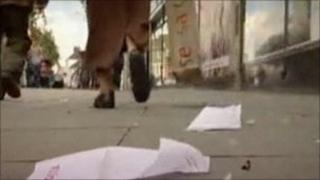 Shoppers and traders in Canterbury are calling for the return of more than 40 litter bins which were taken away from the high street in August.
They were removed by Canterbury City Council for safety purposes amid fears the London riots would spread to Kent.
Manny Armario, who runs a shop in St Peter's Street, has collected hundreds of signatures on a petition.
The council said it was monitoring the situation and some bins had been put back "where there was a need".
A total of 50 bins were removed from the city centre, nine of which have been returned.
In a statement, Canterbury City Council said it had been "an experiment to see what the effect of having no litter bins would be".
'Beautiful city'
It said feedback from people who regularly used the city had been that it was much cleaner as a result.
"We also said that we would continue to monitor the situation... some bins have now gone back in and we will continue to keep a close eye on what's happening because our number one priority is to have a clean city centre."
But Mr Armario said people were coming into his shop on a daily basis with chip wrappers saying there was nowhere to put their rubbish.
He said he had collected about 400 signatures for his petition, but added he could "easily get 1,000 a day" if he took it out on the streets.
"Canterbury's a beautiful city and I'd hate to see it strewn with rubbish."
His campaign is backed by the council's Liberal Democrat opposition leader, Alex Perkins.
"It's late in September and it's clearly not as busy as it will be throughout the year but even so there's litter, there's cigarette butts, there's a can on a step where a bin used to be - people are clearly looking around where to put the rubbish and finding nowhere."