Restoration hope for Margate Fort Road Hotel eyesore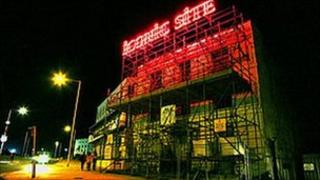 More than 20 enquiries from developers, hotel owners and architects have been received by a Kent council hoping to restore a seafront eyesore.
Thanet council, which bought Margate's Fort Road Hotel by compulsory purchase last year, wants it to become a high quality boutique hotel.
It granted planning permission to re-convert the building from bedsits to a hotel on Wednesday.
Councillor Bob Bayford said the level of interest was encouraging.
The restoration of the Fort Road Hotel is part of a wider regeneration plan for Margate following the opening of the Turner Gallery in April.
The building is one of few remaining on the seafront from artist JMW Turner's time in the town in the 19th Century.
A neon artwork, Iconic Site, has been installed on the hotel for six months, and architecture students from the University of Kent have studied how it could be refurbished.
"The council has been keeping its options open and we did look at demolition but we'd much prefer to see it being brought back to use," said Mr Bayford.
"The interest we've had to date appears to be serious and we hope to see that being translated into work on the site over the next few months."