Thousands fight Gravesend's fifth planned Tesco store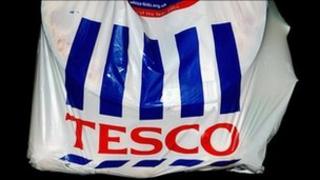 More than 2,000 people have signed a petition against a planned fifth Tesco within a five-mile radius in Gravesend.
The Kent town already has Express and Metro shops in Valley Drive, Whitehill Road, Perry Street and New Road and Tesco plans a fifth in Whinfell Way.
Businesses and residents have raised concerns about increased traffic and say the area does not need more shops.
Tesco said a developer had submitted the application and Tesco was in talks about possibly opening another store.
A spokesman said: "The application is not from Tesco. It is from a developer. However, Tesco is in talks with the developer about possibly opening a store on the site.
"If those talks progress, Tesco would be happy to come and talk to the local community."
He added: "We build stores where we think they will be busy and popular and we listen to the views of local people."
Gravesham council said it was likely the plans would be considered on 9 November.
'Lucrative market'
Bala Arun, who runs a Costcutter in Whinfell Way, said: "I have been running a business here for seven years. I'm selling what the customers want."
He said there would be parking and traffic problems Whinfell Way, which was a high residential area.
Adding that the street had two big shops already, he said: "What is the point of a third shop?"
Mr Arun said shopkeepers along Whinfell Way had gathered the petition which now amounted to more than 2,000 signatures.
Neil Saunders, from Retail Think Tank, which comments on the retail industry, said the past 10 years had seen supermarkets branch out into local convenience type stores.
He said: "That is a market that all of the supermarkets have increasingly targeted because they've seen some lucrative market share or customer gains."
When asked if the plans were excessive, he said: "Although five sounds like quite a lot, you do need quite a large number because people aren't prepared to travel long distances for them.
"You might not travel five miles out unless you're passing anyway because they are the type of stores that are convenience based.
"If it were five superstores, I would agree that would seem very excessive."