Gold traders caught out in Medway scales checks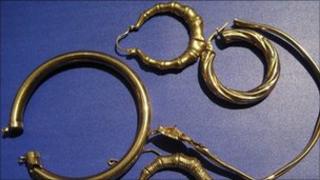 Test purchases on scrap gold traders in Medway have found nearly half had inaccurate or unapproved scales.
Trading standards staff took gold into 17 jewellers, pawnbrokers and second-hand shops, out of which eight failed.
Medway Council said the lowest price offered for 14g of scrap gold was £95, and the highest was £130.
Councillor Mike O'Brien urged people to shop around and not accept the first price offered. He said traders with defective equipment would face action.
He said the prices being paid had shown large variations.
'Exploited'
The traders with inaccurate or unapproved scales had been issued with formal notices instructing them to comply with the law on weights and measures, he said.
They would be the subject of follow-up visits and anyone found still to be underweighing may be prosecuted, he added.
He said: "Medway Council's working hard to ensure residents are not exploited and we are cracking down on anyone who's breaking the law."
The test purchases were carried out in a day across Medway.
Trading standards officers went into all the dealers that were open, 17 premises in total, to check the scales. Out of those, eight, or 47%, were found to have unsuitable equipment.
Staff then went into six premises to check the prices being offered.