New Tunbridge Wells Hospital bus services criticised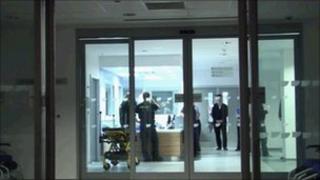 Bus services set up to serve the new £230m Tunbridge Wells Hospital, which opened last week, have been criticised.
Health watchdog Kent Link said it was difficult to find travel information. Age UK said more buses were needed.
Kent County Council (KCC) said the hospital opened with an "unacceptable" limited service and it was arranging extra buses as a short-term solution.
Maidstone and Tunbridge Wells NHS said a new bus service had started when the hospital opened and would improve.
'Shrouded in secrecy'
The NHS trust said it was investing £2m over five years to enhance public transport services to the hospital.
It said improvements within weeks would significantly increase bus frequency to the new hospital from Maidstone, Tonbridge and Tunbridge Wells and would also help those travelling from further afield.
But Mike Eddy, from Kent Link, said: "Trying to find out how to get there [and] finding out why we can't find out any information seems to be shrouded in secrecy."
He said KCC, the NHS and bus firms should have "got to grips" with the issue at the planning stage.
Sandra Springett, from Age UK, said she asked a group of 45 older people how to get to the hospital and only one person knew. She also said there were no buses on a Sunday.
Councillor Bryan Sweetland, KCC cabinet member for highways, said: "That the hospital opened with a very limited bus service is completely unacceptable."
'Planning issues'
He said KCC had offered, at relatively short notice, to assist the NHS trust by arranging some bus services on their behalf, as a short-term solution for six months, and the trust would be expected to fund those services.
Mr Sweetland said there had been planning issues involving Tunbridge Wells council.
He said: "I hope the planning issues between Tunbridge Wells Borough Council and the trust can be resolved and a long-term agreement will be reached over what bus services will be provided to comply with the planning conditions."
A statement from Tunbridge Wells council said the planning authority received an application to vary the conditions concerning the bus service in June.
It said it had received objections which were available on its website and it was consulting with the NHS trust about providing the most appropriate bus service.