Kent councillor not expelled after 'race slur' post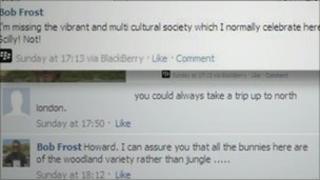 A councillor in Kent who made offensive comments on Facebook will not be expelled from the Conservative Party.
Instead, Dover District Councillor Bob Frost will remain suspended until the end of November and has been warned about his future conduct.
Mr Frost was suspended by the Conservative Group after appearing to make comments about black people during an online conversation about the riots.
Opposition councillors said the decision was a "disgrace".
Mr Frost was having a conversation on the social networking site, alluding to the London riots while he was on holiday.
On his status he wrote: "I'm missing the vibrant and multi-cultural society which I normally celebrate here in Sicily! Not!"
It was then suggested by someone else on Facebook that he take a trip to north London.
He replied: "All the bunnies here are of the woodland variety rather than the jungle."
'Common sense approach'
Councillor Gordon Cowan, the leader of the opposition Labour group, said: "I cannot understand why Dover District Council's Tories have allowed him just a slap on the wrist.
"It's a disgrace to the community and a disgrace to society."
Councillor Paul Watkins, the leader of Dover District Council, said Mr Frost had been "punished enough".
He said: "The easy decision would have been to get rid of him. The brave decision is to try and manage the situation.
"I think the public will see this is the common sense approach."
In a statement at the time of making his comments, Mr Frost apologised and said he was "mortified" by the offence that he had caused.
He also left his job as a maths teacher at Sir Roger Manwood's School in Sandwich, by mutual agreement.
Mr Frost declined to comment on the latest developments.