Measles cases in Kent up by ten times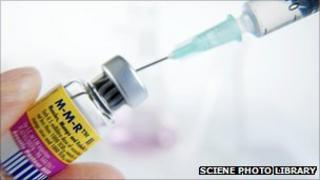 Cases of measles in Kent so far this year are more than 10 times the number of diagnoses made in 2010, according to the Health Protection Agency (HPA).
The HPA said there had been 62 cases up to July, mainly in children and young adults, compared with six in 2010.
It said many cases had been in clusters in universities and schools, with many patients unvaccinated.
Students starting or returning to university are being urged to make sure they have had the MMR vaccine.
There were also 29 cases meningococcal meningitis last year, and the HPA is also advising students to have the meningitis C vaccination before they start term.
Dr Mathi Chandrakumar, from the Kent Health Protection Unit said: "University bars and campuses where lots of students are in close proximity is an ideal place for bacteria and viruses to spread which is why we may see more outbreaks of these infections in this environment.
"Measles and meningitis are infections that can both be fatal. It is absolutely vital that all students ensure they are completely up to date with all their vaccinations, especially the MMR and meningitis C vaccine.