Margate's Turner Contemporary celebrates with The Kiss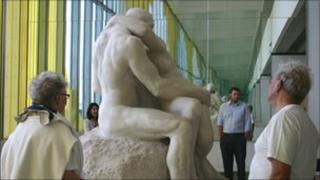 A sculpture voted the nation's favourite has gone on display in east Kent as part of the region's efforts to use art to drive regeneration.
Auguste Rodin's The Kiss went on show as Margate's Turner Contemporary gallery celebrated notching up 250,000 visitors, since opening in April.
"We are already seeing some of the effect we are having on regeneration," said gallery director Victoria Pomery.
"We are absolutely delighted to have The Kiss installed here in Margate."
First to see the sculpture at the gallery were Audrey and Philip Bray from Luton, Bedfordshire, who described it as "incredible".
Eroticism objections
The Kiss was launched the same day the curtain rises on Canterbury's new £26.5m Marlowe Theatre which it is also hoped will attract new visitors to the area.
Rodin's erotic marble sculpture of adulterous lovers Paolo Malatesta and Francesca da Rimini will be on show at the gallery until September next year.
It is displayed alongside an installation by fellow French artist Daniel Buren.
The Kiss, voted the nation's favourite sculpture in an Art Fund poll in 2003, was bought by the Tate in 1953.
Usually shown in London, it was put on show at Tate Liverpool, in 2007, but has a long, sometimes controversial, association with south east England.
The Tate's sculpture, one of three marble versions of The Kiss, was commissioned by American art collector Edward Perry Warren, who lived in Lewes, East Sussex in 1904.
He kept the work in stables behind his home for 10 years but eventually it went on display in Lewes Town Hall.
Local residents, led by headmistress Kate Fowler-Tutt, objected to its erotic nature and got it covered up to stop it exciting the young soldiers billeted there.
Lewes council persuaded The Tate to return it briefly for an exhibition at the Town Hall in 1999, to mark the Millennium.
"Before it came it seemed unreal that it might ever arrive," said local journalist John May.
"When it arrived I would go in there every day and I couldn't believe my eyes that it was here."