Foal dies in cable theft attempt in Sittingbourne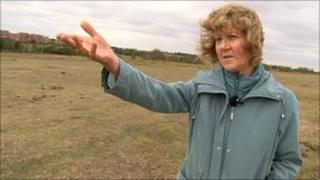 A foal was killed and 3,000 Kent homes were left without electricity when thieves cut down an overhead power line in an attempt to steal the cable.
The animal was electrocuted when it came into contact with the high-voltage wire in fields off Ferry Road in Iwade, near Sittingbourne.
Landowner June Thomas said the people responsible were "absolutely wicked".
UK Power Networks said electricity supplies were restored to homes within about six hours.
'Risking lives'
Ms Thomas said: "It's wicked isn't it, horrific. It's ridiculous, it's a life isn't it?
"I only hope the animal didn't suffer and it was instant."
Kent Police have appealed for anyone with information about the incident to contact officers.
Insp Julie Dodge, of Kent Police, said: "This crime has affected many people from those affected by the power outage to the owner of the foal which died.
"It's likely it was an attempt at cable theft, and was extremely dangerous. It is not worth risking lives for the sake of few pounds of scrap metal value.
James Barber, of UK Power Networks, said: "It was an extremely serious situation.
"It's absolute madness to mess with our overhead electricity lines as it is with our underground cables.
"Those volts that go through those can maim or kill as they did in this tragic incident
"It could have been a child, it could have been an adult in this case it was a very innocent animal."
Police have just released details of the incident which happened on 28 September.