New development plans for Dover's centre unveiled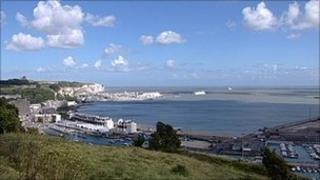 New plans to revamp the centre of Dover in Kent are being unveiled after a supermarket chain withdrew from development proposals.
Asda pulled out of the £50m project for the St James Street site, last year.
Traders believe the delay in the development is affecting their businesses.
"I just want to see some life, there's just no one walking past my shop," said Paul Hignett, who runs a sandwich shop opposite the site.
"It's absolutely disgusting. It's no advertisement for the town, it just puts the town in a bad light as soon as people walk in."
Last year, Asda said it was not proceeding with a new store as part of the development because of disagreements over design requirements and car park operations.
'Cusp of change'
Instead of having one major retailer at the core, the new plans for the 3.2 hectares (7.9 acres) site feature a number of retail outlets.
The designs also include the demolition of high-rise block Burlington House, a new hotel and a landscaped car park.
Adeline Reidy from the Castle Street Society, which represents small business owners in Dover, said: "A lot of people have been waiting for this development, people have been put off doing refurbishing.
"I'm excited again because something's moving, something positive but there is just the thought in the background that we've been here before."
Tim Ingleton from Dover District Council said it was an exciting time for Dover.
He added: "We are on the cusp of transformational change.
"There are already a number of key tenants already in very advanced discussion which is encouraging to see."
The plans for the St James Street site are on display at the Dover Discovery Centre from Thursday until next Tuesday.