Job cuts considered by overspent Gravesham council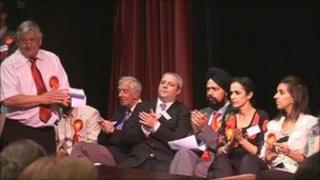 Staff cuts and increases in parking charges are among measures being considered by a Kent council likely to overspend by £600,000 this year.
Gravesham Borough Council has failed to cut its spending by the hoped-for £1m needed to balance its books.
John Burden, leader of the Labour-run council, said the budget set by the previous Tory administration was "a colander full of holes".
But Tory leader Mike Snelling said staff turnover was lower than expected.
"The world has changed and the jobs are not around any more," he said.
"People are understandably digging themselves into their current jobs and that is the main cause of the problem."
Mr Burden said the budget set for 2011/2012 assumed that seven members of staff would have left the council by 1 April but that had not happened.
Economic downturn
"The whole basis of the finances was flawed from day one," he said.
Fees charged for parking, planning applications and trade waste also brought in less than predicted, according to a report to be considered at an extraordinary meeting on Tuesday.
The shortfall is blamed on the wider economic downturn.
Unison representative Zoe Van Dyke said the union had been told everything possible would be done to avoid compulsory redundancies.
"They will be seeking volunteers for redundancy and looking at other possible sources of revenue," she said.
"They will also ultimately have to look at cuts to jobs with an impact on services."
Mr Burden said the council would look at increasing car parking charges among other sources of income.
"The last thing I want to do is get rid of people but we may have to," he said.