CCTV of Gravesend assault suspect released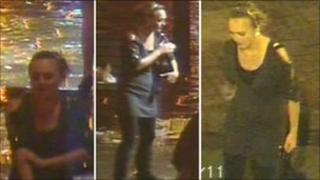 CCTV images have been released by Kent Police after a woman in her 30s was assaulted in Gravesend on Sunday.
Police were called after the assault in New Road at about 03:15 BST.
The victim had been repeatedly punched and kicked by a woman, believed to be in her 20s and suffered a broken ankle, and cuts and bruises to her face.
The suspect was described as a white, between 20 and 25 years-old with shoulder length blonde hair and was wearing a grey top.
Police are also keen to talk to another woman who may have witnessed the assault.
She was described as about 30 years-old with dark hair in a bun and was wearing a light coloured top and black leggings.