Herne Bay school pupils warned over short skirts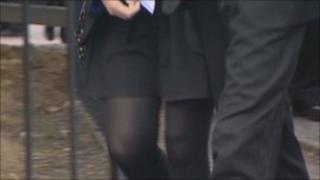 Girls at a secondary school in Kent could be forced to wear trousers amid "serious safeguarding concerns" that their skirts are too short.
Parents of pupils at Herne Bay High School have been warned the ban will be enforced if their daughters continued to break the school rules.
In a letter, principal Claire Owen said school policy stated skirts should be no higher than 10cm above the knee.
She said the school feared some pupils were "putting themselves at risk".
Dr Owen said "despite repeated interventions from staff", female students were still choosing to wear their skirts shorter than the rules stated.
'Gives wrong message'
She told parents: "This trend is causing us serious safeguarding concerns, and I am sure that you are as concerned as we are that some of our female students are putting themselves at risk."
She said the school would continue to monitor the situation over the next few weeks and continue to encourage girls to wear their skirts appropriately at all times, including on the way to school, at school and on the way home.
"In extreme circumstances we may feel the need to insist that, for particular girls and due to significant concerns, they wear trousers to school."
Dr Owen warned that if the situation did not "drastically improve" the school would be left with no option but to have a "trousers only" policy for all female students.
Stella Meehan, who has a son and a daughter at the school, said the principal's warning made sense.
"I'm pleased they've issued the letter... and they [skirts] are definitely too short," she said.
Speaking to BBC Radio Kent, Dr Owen said the school's primary focus was looking after the students and making sure they were safe.
She said often the girls were unaware that the way they were dressing could "give out the wrong message". She said peer pressure was also an issue.
Dr Owen said she had received "overwhelming support" from parents in response to her letter, with many saying they would buy the "alternative longer, pleated skirts" over the impending half-term holiday.
"I anticipate through working with parents the issue will be resolved when we come back from half term," she said.