Kent recycling facility may close after losing subsidy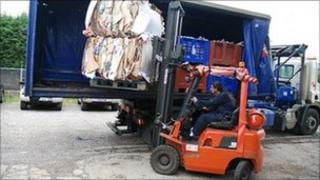 A community recycling facility in Kent may have to close after it losing 80% of its funding.
Founders of Kent Community Recycling, outside Folkestone, said they fell foul of government rules against inclusion of materials from schools and colleges.
It resulted in Kent County Council cutting its grant, which may force it to close at the end of the month.
However, the council said it stopped the funding as the facility would not submit to further audit controls.
The non-profit making organisation, founded 22 years ago, has lost funding worth about £110,000 a year.
Mark Wyatt, who co-founded the organisation with his wife Sheena, said the council audited the company last year.
'Specific criteria'
"When they came to do the audit last October they brought with them Defra guidelines from 2006, saying we wouldn't get a subsidy for materials from educational establishments," he said.
"No one had sent them to us."
Mr Wyatt said the extra paper work needed to prove what waste is from where is too much to comply with.
He said the organisation has not been able to make up the shortfall in funding and it is likely they will close at the end of the month.
A council spokesman said: "Kent Community Recycling were asked last year to submit to further audit controls for the county council to continue funding their work to which they refused.
"The scheme has specific criteria which needs to be followed stringently to provide value for money for the taxpayer.
"Despite a reduction in our budget for third party recycling this year, we have continued to offer Kent Community Recycling the opportunity to take part in the third party recycling scheme and receive funding."