Thanet District Council backs e-petition to ban live exports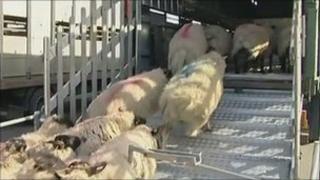 Thanet District Council has voted to officially support a campaign to ban live animal exports from Ramsgate.
The council backed a motion to encourage people to sign a e-petition calling for a government ban.
A demonstration outside the council meeting, which was organised by opponents of the exports, attracted about 40 people.
The National Farmers' Union (NFU) said the shipments were subject to strict controls.
'Good result'
Councillor Ian Driver, who has led the campaign against the live shipments, said: "It was a good result - the motion is for the council to support the petition and encourage the people of Thanet to sign it."
Mr Driver said he believed it will be the first time a local authority has given official backing to a government e-petition.
In July the hung council sought legal advice on whether it could lawfully ban the shipments, but was told it could not as Ramsgate was an "open port".
Britain started exporting live calves to the continent for veal and beef again in 2006, after the lifting of a decade-long EU ban imposed to prevent the spread of BSE.
The NFU's chief dairy advisor Robert Newbery said: "There is nothing illegal or inherently wrong about moving animals from one part of Europe to another, provided they are well-cared for both in transit and in rearing."
Under the e-petitions scheme, introduced by the government in August, those which pass the 100,000-signature threshold can be eligible for debate in the House of Commons.