Ramsgate level crossing crash: Two people arrested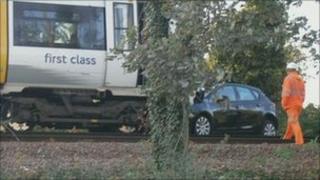 A man and a woman have been arrested after a train struck an unoccupied car on a level crossing in Kent.
The driver and four rail workers on the train were unhurt after it hit the car in Ramsgate at 05:00 BST.
Southeastern said the incident had damaged the train and caused disruptions to services. The line was reopened at about 16.30 BST.
The pair were held on suspicion of being in charge of a vehicle when unfit through drink or drugs.
The train, which was the 04:50 service from Ramsgate to Charing Cross, hit the black Vauxhall Astra on the Cliff's End level crossing.
'Delays and cancellations'
Southeastern said specialist equipment was used to remove the car and repair the train.
A spokeswoman added: "The railway line that was closed near Ramsgate because of the car abandoned on the level crossing is now open again.
"There are still some delays and cancellations and passengers can use their tickets on the high-speed link for no extra charge."
Following the incident a replacement bus service was operated between Ramsgate and Canterbury West, and between Ramsgate and Dover Priory. Some rail services were also diverted via Canterbury.
Routes in and out of London's Charing Cross station were among those affected.
A British Transport Police (BTP) spokesman said: "There was no-one inside the car at the time of the collision. The train remained upright on the tracks.
"A BTP investigation is under way to establish how the car came to be on the crossing and the full circumstances leading up to the incident."