Night sun artwork rises over Sittingbourne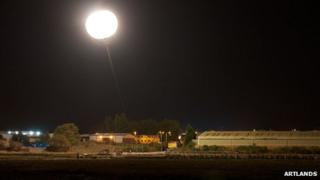 An "artificial sun" measuring more than 65ft (20m) wide has risen into the skies over Kent after being damaged.
The light-filled globe flies at up to 400ft (122m) while tied to a boat on Milton Creek near Sittingbourne.
The Sleepers Awake project's helium-filled sphere was torn by a gust of wind on 5 October, just days before its official launch date.
The outer skin of the globe suffered "fairly substantial damage", said Alan Noble from makers, Cameron Balloons.
Mr Noble added: "The repair work involved patching and welding. The specialised material that is used for the outer skin is not sewn but actually welded."
The structure is intended to create a vivid ball of light over Sittingbourne and is part of a regeneration project around Milton Creek Country Park.
At its peak, the globe should be visible from a distance of about 20 miles.
The artwork houses a lighting rig and is tethered by a steel cable to a platform floating on Milton Creek, which in turn will be towed by a barge, allowing the "night sun" to move across the night sky.
Brighton artists, Heather and Ivan Morison, created the project in the hope it would attract "huge numbers of night-time visitors" to the area.
Fiona Boundy, from Artlands, which commissioned the work, said: "The artwork looked amazing against a star filled night sky. Everybody is over the moon."