Jade Kenyon rail death mother in new safety call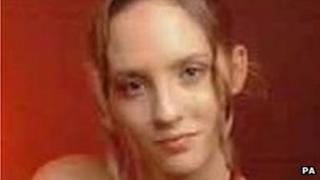 A mother whose daughter was electrocuted on a railway line in Kent has been to Parliament to campaign for more to be done about rail safety.
Jade Kenyon, 17, was walking along the Medway Valley Line close to her home in Snodland when she died in June 2006.
Rachel Farrington said Jade had been walking home along the outside of the line after missing the last train.
She said she had met MPs and Network Rail to ask for CCTV cameras to be installed and more education on safety.
'Don't always realise'
Ms Farrington said the death of her daughter had been "very difficult but we've been campaigning and hopefully we're getting somewhere".
She said although there were a lot of good educational initiatives around, including Network Rail's No Messin' campaign, more needed to be done to promote safety around railway lines.
"Jade was not aware of the risks she was taking... I think it's important to remember kids don't always realise there is a risk walking along the outside rail because there is no way of knowing where the third rail is."
Calling for the installation of CCTV cameras and alarm systems to recognise someone was trespassing on a railway line, Ms Farrington said: "If Jade had been educated then possibly she'd still be here today."