Smelly wood chip pile at Chatham Docks is cleared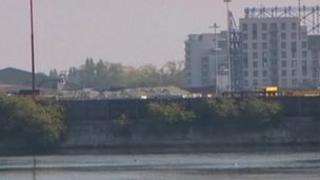 Residents who complained about "disgusting" smells coming from a wood chip storage site have been told it will be cleared in the next two weeks.
The large stockpile of material on its way to Sweden began decomposing after it built up at Chatham Docks in Kent.
People living on St Mary's Island complained that they were unable to open their doors and windows during warm weather in September and October.
Peel Ports said the stockpile had now been reduced by more than two thirds.
'Feel sick'
In a letter to be sent to residents next week, the company said it expected the remainder of the material to be removed by 18 November.
Some residents said the smell was so bad it was getting into their clothing, and even made them feel sick.
"This has been a very unusual situation for us and we are very sorry that any of our neighbours have been inconvenienced," said Peel Ports.
It said that in future it would no longer store wood and baled waste in the St Mary's area.