Tunbridge Wells Hospital opens bereavement suite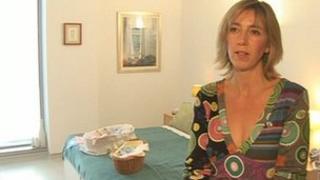 A bereavement suite for the parents of stillborn children has been opened at the new Tunbridge Wells hospital.
The suite, which has a bedroom, bathroom and kitchen, is in memory of Hope Butler, who died 16 years ago at the former Pembury Hospital.
Stillbirth and neonatal death charity Sands raised cash to furnish it.
Hope's mother Emily said it is thought to be the first time a bereavement suite has been part of a new hospital from the planning stage.
The newly-opened rooms replace the original Hope Butler suite at the old hospital.
Tunbridge Wells hospital became fully operational in September with the closure of the the Kent and Sussex Hospital in the centre of town.
Babies crying
Ms Butler said the first Hope Butler suite was inspired by a support group she set up for other mothers after her daughter's death.
"At that time the hospital just put me in a side ward, where I had to listen to other babies crying so that was very painful," she said.
"When I started up the support group, with the help of my mum and a health visitor, many other women were coming up with the same story.
"Then we realised the hospital had to look into providing a place for mums."
She said the new rooms were near the delivery suites so the midwives would be on hand if necessary.
"It is also completely self contained so if you do need to have a good cry you are in a safe haven."